Arrival
Nu ar jag har, det kanns verkligen hur konstigt som helst! :O Som ni ser sa skippar jag alla prickar over o och a och a.
Det ar verkligen jattefint har och liknar nastan en film. Jag kanske ska ta det har pa engelska eftersom att det kanns sa konstigt :S
The roads here are huge and I saw a few schoolbuses that looked real classical, like this
I just ate 2 bagels and after that I ate an ice cream that looks like this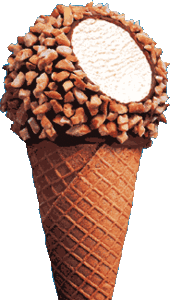 The ice cream is called Drumsticks, tasted wonderful!
The flight here felt very long but we had somekind of jetscreens were you could play games and watch movies and all that. I think it took about 7 hours?
AND thay have OREO cookies here! They have that in Sweden to but it's sooo expensive there so we never buy it. Oreos look like this
Jag stormtrivs here!!! :D
---
Kommentarer
åh vad härligt det låter, och coolt med skolbussarna
ha det så bra:)
snögga bussar XD ÅH åh Åh Oreo! :D nae.. :P
<33 skrev d förra ;o
Trackback